---
Main View
When Accordance is first opened, the entire ESVi Bible is loaded. Afterward, the module last displayed opens. Hence, Main View relates to display of all Text and Tool modules.
Text and Tool modules are initially displayed with the Toolbar controls.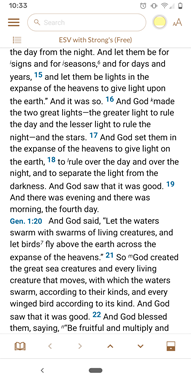 The Main View display area is expanded by tapping the Hide Toolbar button (

).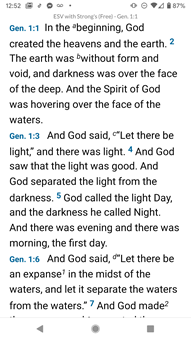 All Android and Accordance interface elements are hidden by tapping once in the display area.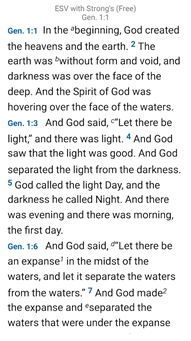 Note: Tapping in the display area overrides any action of the Hide Toolbar button.
Flick to scroll through and read the displayed module.
An additional pane is displayed by tapping the Split Vertical button ().
If an additional pane is displayed, the separating bar also appears, with icons affecting display in the additional pane.

Toolbar Controls
Library button (): Tap to view your Library.
Search button (): Tap to open the Search Options dialog box.
Search Entry box (): Tap to perform a search.
Split Vertical button (Text modules only): Tap to open ()/close () an additional pane. Orientation of the pane depends on the orientation of your device.
Quick Settings button (): Tap to view additional settings for the open Text or Tool.
Overflow button (): Tap to view Easy Install, Accordance Store, Help and About.
Table of Contents (TOC) button (): Tap to navigate to a specific book, chapter, and verse.
Text Selector (for example: ): Tap to open and select a list of available Text modules. This item also displays the abbreviated title of the current module.
Show/Hide Toolbar button: Tap to hide ()/show () the top toolbar.
Close Search button (): After performing a search, this button appears on the top left. Tap to return to the Main View.
Additional Pane Bar
The Additional Pane bar is displayed above the pane when an Additional Pane is open.
Linked ()/Unlinked (): Tap to unlink or link the bottom pane from the top pane (vertical display) or the right pane from the left pane (horizontal display).

Note: When the panes are unlinked (), the TOC button () appears in the additional pane as well.

Module Selector (for example: ): Displays the abbreviated name of the currently displayed module. Tap to switch to a different module.
Text/Tool button: Tap to select a Text () or Reference Tool ().
Horizontal/Vertical Pane: Tap  or to have a horizontal or vertical additional pane, respectively. The pane maintains the selected orientation when rotated and when the contents of the pane are changed.
Navigation Bar Controls
The Navigation Bar Controls are displayed by tapping the Navigation Control button (

).
Navigate buttons ( ): Functionality depends on whether or not a search has been performed.
No search performed (Text modules): Tap to go to the next or previous chapter.
No search performed (Tool modules): Tap to go back and forth between headings in the module.
After a Tool or Text search with context set to All: Tap to jump to the next or previous hit.
Close Navigation Bar button(): Tap to close the Navigation Bar.
---


Some graphics may differ from your App. Functionality described is the same.
August, 2019